William "Billy" Liddell
Liverpool, Scotland & GB Footballer
---

William Beveridge "Billy" Liddell (January 10 1922 - July 3 2001) was a Scottish international footballer who played for Liverpool F.C. throughout the 1940s and 1950s, helping them win the League in 1947.
Life and playing career
Born in Townhill near Dunfermline, Scotland, Billy's father was a coal miner who was determined that his son should not follow him down the pits.
While playing for Lochgelly Violet at the age of 15, Liddell was spotted by Liverpool half-back Matt Busby who recommended him to Liverpool, for whom he played his whole professional career, moving there in 1939. Because of Billy's dad insisting Billy worked as well as played, he could initially only train twice a week.

After serving as a Bomber Command pilot officer and pathfinder in the Second World War, during which Liddell played as a guest for Chelsea, Linfield, Cambridge Town, Toronto Scottish, Dunfermline Athletic and for the Scottish side which beat England 5-4 in a wartime international at Hampden Park.
Upon returning to Liverpool after the war, Liddell made his Liverpool debut on 5 January 1946 in the first post-war competitive competition, the FA Cup, the 3rd round 1st leg tie was at Sealand Road and Chester were the hosts, it proved to be a good day for Billy as he scored in the 30th minute in Liverpool's 2-0 win; also making his debut that day was a certain Bob Paisley.
Liddell was a major influence in the Reds side which won the 1946/47 Football League Championship, their first since 1923, Billy appeared in 34 of the 42 games scoring 7 times. Billy also played twice for a Great Britain XI against the Rest of Europe, alongside Stanley Matthews both appearing in 1947 and 1955. The 1947 game, dudded the 'Match of the Century', was played to celebrate the return of the Home Nations to FIFA having left in 1920.
The match was played at Hampden Park in front of 135,000 spectators, the Great Britain side wore a navy blue strip in honour of the host association. On that occasion, the Great Britain team consisted of:
Frank Swift (England), George Hardwick (England), Billy Hughes (Wales), Archie Macaulay (Scotland), Jack Vernon (Northern Ireland), Ron Burgess (Wales), Stanley Matthews (England), Wilf Mannion (England), Tommy Lawton (England), Billy Steel (Scotland) & Billy Liddell (Scotland).
The 1955 game was played to celebrate the Irish Football Association's seventy-fifth anniversary with the match was held at Windsor Park, Belfast. The British team took to the field wearing Northern Ireland's green strip and comprised of:
Jack Kelsey (Wales), Peter Sillett (England), Joe McDonald (Scotland), Danny Blanchflower (Northern Ireland), John Charles (Wales), Bertie Peacock (Northern Ireland), Stanley Matthews (England), Bobby Johnstone (Scotland), Roy Bentley (England), Jimmy McIlroy (Northern Ireland), Billy Liddell (Scotland).
Primarily a left-winger he was also comfortable playing on the opposite flank, centre-forward or inside-forward. Liddell was at the forefront of Liverpool's run to their first ever appearance at Wembley, playing in all 7 FA Cup games scoring twice, the match came on 29 April 1950 against Arsenal, Arsenal recording a 2-0 victory.
Billy was awarded 29 international caps for Scotland scoring 8 goals, his debut came on May 15 1946 at Hampden Park, Glasgow in a 3-1 victory over Switzerland, Billy celebrated his debut in style by scoring 2 of the Scottish goals in the 25th and 28th minutes.
Liverpool's flirted with relegation in several seasons in the early and mid fifties and it was a lot to do with Billy's ability that Liverpool avoided relegation for as long as they did. Billy's contribution to the Liverpool side was so great that the club were nicknamed 'Liddellpool.'
In 1953-54 Liverpool were eventually relegated. Liddell was given the captaincy and moved into the centre of midfield, but was unable to help Liverpool gain promotion before his retirement in 1961 aged 39.
Billy Liddell amassed 534 appearances for the Reds scoring 229 times, an incredible amount for a player who was played mostly in midfield, he averaged a goal every 2.3 games.
Liddell was appointed Justice of the Peace for Liverpool in 1958 and became bursar at the University of Liverpool after retiring. Billy died in 2001 and November 4, 2004 he was honoured by Liverpool Football Club with a commemorative plaque at Anfield. Many people still believe he is the greatest player to ever turn out for the club, as evidence by the fact that Liddell was named the 6th most important player to ever play for Liverpool on 29 September 2006 on the official Liverpool Football Club website after fans voted for the '100 Players Who Shook The Kop'.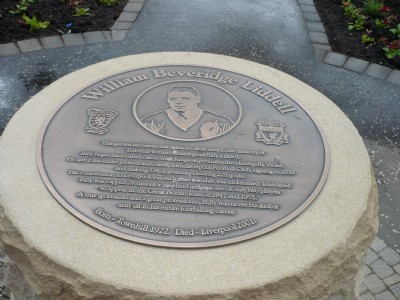 On the 16th of November, after much lobbying the name of Billy Liddell was inducted into the Scottish Football Association Hall of Fame. This followed in the wake Fife Council's decided to rename Townhill sport complex "The Billy Liddell Sports Complex".
On Saturday 22nd of May 2010

Depute Provost of
Fife
Council, Cllr Liz Mogg unveiled the Billy Liddell memorial. In attendance were various members of the Liddell family including Billy's wife Phyllis.
References